Post by Skyguy on Sept 15, 2018 15:14:59 GMT -7
Name
: Luke Skywalker
Age
: 23
Gender
: Male
Race/Species
: Human
Height/Weight
: 5'7 ft/130 pounds
Alliance
: Resistance/Jedi Order
Rank
: Jedi Guardian
Weapons and other items:Lightsaber Design
: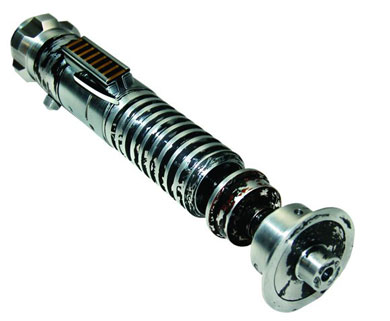 Lightsaber Color
: Green
Lightsaber form
: Djem So with elements of Ataru and Soresu.
Known Force Powers:
Core:
-Force speed
-Force Sight
-Force Cloak
-Force Concealment
-Farseeing
-Telepathy
-Force Empathy
-Telekinesis
-Force Jump/Leap
-Force Pull/Push
-Force Throw
-Force Vision
-Force Barrier
Light:
-Mind Trick
-Force Persuasion
-Battle Precognition
-Force Healing
Dark:
-Force Rage
-Force Choke
Force Technique in Lightsaber Combat:
-Saber Throw
Image
:
Face Claim:
Mark Hamill
Description
:
Despite being a larger than life figure in galactic history, Luke is quite short standing only at 5'7 ft. His light skinned body is muscular thanks to military life in the Rebellion and his Jedi training. Much like his father, he has blue eyes and blond hair that has darkened throughout the years. His typical attire consists of black Jedi Jedi robes and a black glove covering his prosthetic hand.
Personality
:
In the beginning of his hero's journey, Luke was an impatient young man with an idealistic point of view. He craved adventure and excitement looking to the future instead of what was happening at the moment. And while he did have good intentions, he would act on instinct which would put him further into trouble and at times put him on the dark path. But after the loss of his hand and some self training, he became patient and seasoned with wisdom beyond his years. He still retained his idealistic point of view and his instinctual desire to help people who are in need. But despite all of his training and discipline, his instinct to do good can inspire fear and anger. Especially when his loved ones are threatened.

History
:
Luke and his sister Leia was born on the asteroid of Polis Massa with their mother Padme Admidala dying shortly after their birth from a broken heart. Their father was the Chosen One himself, Anakin Skywalker who turned to the darkside because of Palpatine's manipulations and his desire to prevent a vision of his wife dying at childbirth from coming true. After his fall, he was christened Darth Vader and helped exterminate the Jedi during the execution of Order 66 with an attack on the Jedi Temple.
With the Galactic Republic being reformed into the Galactic Empire with Palpatine as it's leader, Jedi Masters Obi-Wan and Yoda attempted to end their rule. Yoda would attempt to kill Palpatine and Ob-Wan would attempt to reason with his old friend before engaging in a lightsaber duel. Unfortunately, Yoda couldn't beat Palpatine and Darth Vader lived on despite losing his limbs and being severely burned. Since Luke and Leia inherited their father's immense force potential, the two Jedi Masters knew that they would be a threat to Palpatine's rule should they be trained in the ways of the Jedi.
The two would separate the children with Leia being taken by Bail Organa and raising her as his own child and Luke being taken to Tatooine by Obi-Wan to be raised by Owen and Beru Lars on their Moisture Farm. Under the alias of Ben Kenobi, Obi-Wan watched Luke from afar to protect him with Owen wanting the Jedi Master to stay far away from Luke. This was because he was told that Anakin died and believed that Luke would suffer the same fate should he follow Obi-Wan. Much to the dismay of his uncle, Luke became more and more like his father as he grew older sharing his recklessness, sense of adventure and talent as a pilot. He eventually expressed the desire to join the Imperial Academy to become a pilot.
But Owen wouldn't allow him claiming that he needed help on the farm each time enrollment came up. This was a lie as Owen believed that the boy would die because of his adventure seeking nature. When Luke was 19, his life would change forever when his uncle bought a protocol droid and an astromech droid named C-3PO and R2-D2 from a group of Jawas. As the boy cleaned the droids, he learned from C-3PO that they belonged to the Rebellion before stumbling upon a holographic message that R2 was carrying. The message was from Princess Leia who was seeking help from Obi-Wan Kenobi. Luke couldn't help but wonder if he shared any relations to Ben Kenobi and R2 would escape the farm at night hoping to find him.
Luke and 3PO would chase after the droid the next day and stumbled upon a group of Sand People who attacked them after finding the droid. After getting knocked out, they were scared away by Ben Kenobi who replicated the roar of a krayt dragon. When Luke came to, he told Ben that R2 was looking for someone by the name of Obi-Wan Kenobi and asked if he knew him. The old man would tell Luke that he and Obi-Wan were the same before taking him back to his place. The Jedi Master would explain to Luke that his father was a Jedi Knight who fought in the Clone Wars and that he was killed by Darth Vader, an apprentice that Obi-Wan trained.
This of course was a lie as Obi-Wan believed that he wasn't ready to handle the truth. He would explain to Luke what the Force was before getting R2 to play the entire message which revealed that the droid had plans for a super weapon called the Death Star which revealed a major weakness. And that it needed to be taken to her father on Alderaan so that the Rebel Alliance could use the information for a plan of attack. Obi-Wan told Luke that he needed to come with him as he was too old for this sort of thing, but Luke refused claiming that his uncle needed help. But he did promise to take him as far as Anchorhead and on the way he encountered the corpses of the Jawas that sold them the droids.
When Obi-Wan revealed that this was the work of Imperial Stormtroopers and that they were look for the droids, Luke rushed over to the farm believing that his aunt and uncle were in danger. But when he got there, he discovered the burned skeletons of his aunt and uncle. With nothing holding him back on Tatooine, Luke returned to Obi-Wan proclaiming that he wanted to go to Alderaan with him and learn the ways of the Force to become a Jedi like his father before him. To get off the planet, they went to Mos Eisley to hire a pilot that would take them off the planet. It was there that they met two smugglers by the names of Han Solo and Chewbacca with the former owning a ship called the Millennium Falcon.

After a brief shootout with Imperials, they left the planet and headed to Alderaan after going into hyperspace. During the journey, Obi-Wan had Luke practice with a lightsaber and taught him how to stretch out with his feelings to sense the area around him without his eyes. But the training was interrupted when they discovered an asteroid field in place of Alderaan. After discovering a near by TIE fighter, they chased after it before it could reveal their presence to other imperials. The TIE fighter appeared to be headed to a small moon and as they got closer, Obi-Wan realized that the moon was a massive space station that turned out to be the Death Star. The Death Star would capture the Falcon into a tractor beam and brought it into the station.
After landing in the hanger, Luke and the others hid in secret compartments in the ship that were used for smuggling. After inspecting the ship, only two stormtroopers were left in the Falcon and Luke and Han would knock them out before putting on their armor. With their disguises they infiltrated the Imperial Control room where they learned the location of the terminal that controlled the power for the tractor beam. Ben would go off on his own to turn it off despite protests from Luke with the old Jedi Master claiming that destiny laid on a different path than his own. After leaving, Luke and the others discovered that Leia was being kept in the prison and would go off the rescue her after persuading Han that he would make a lot of money.
After rescuing Leia, the would head to the ship where they saw Ben fighting Darth Vader with a group of stormtroppers watching. Knowing that Luke wouldn't leave without him, he allowed himself to be struck down by Vader making Luke cry out and catching the attention of the stormtroopers. After a brief shootout, they escaped from the Death Star and headed to Yavin IV unaware of the fact that the Empire placed a tracking device on the ship. Luke would join the Rebel Alliance as a pilot and was placed Red Group with the designation of Red Five. With the Rebels believing that the Death Star was tracking the ship they escaped on, they made a plan of attack that involved shooting at a small ventilation shaft with a proton torpedo that would make the super weapon explode.
After their sensors detected the Death Star, the Rebels would execute their plan of attack with Luke being one of their many pilots. Unfortunately, many pilots died during the assault including two squad leaders that made him take charge. With Obi-Wan encouraging Luke to use the Force, Luke shut off his computer and relied on his instincts. With Vader chasing him down in his ship, he was about to shoot down Luke until he was shot by Han in his Millennium Falcon sending him spinning into the depths of space. With the Force guiding him, Luke made the shot and destroyed the Death Star. Because of their heroic actions, he, Han and Chewbacca were awarded the medal of bravery.

For the next three years, Luke would fight alongside the Rebels and eventually reached the rank of commander. The Rebels stationed Luke in a secret base on Hoth called Echo base where he would make regular patrols on the icy planet. During one of his controls, he was knocked out by a wampa who dragged him to it's cave. The young Skywalker came to and escaped with the aid of the Force and his lightsaber. After a long walk, he collapsed on the ground and saw Obi-Wan's spirit who told him to go to the Dagobah system to train under Jedi Master Yoda. Luke would pass out and was rescued by Han Solo. After recovering in a bacta tank, a probe was discovered and destroyed by Han and Chewie. Unfortunately, the probe sent it's message to the Empire prompting them to attack.
The Rebels would escape from Echo Base as Luke and Rogue Squadron held off the Empire. After the battle, Luke and R2 headed to the Dagobah system to find Jedi Master Yoda. He would crash land on the planet and eventually met a small creature who revealed himself to be Yoda after commenting that he couldn't teach him because he has no patience. But with Ben's insistence, he agreed to train Luke and while he did learn a great deal about the Force, he failed all of the Jedi Master's tests. When Luke received a Force vision that showed his friends in a great deal of pain in a city in the clouds, Luke wanted to leave the planet and rescue them. But Ben and Yoda warned Luke that this was a trap and that he should stay to continue his training.
But Luke didn't head their warning and headed off to Cloud City to rescue his friends. It was there that he confronted Vader and engaged him in a lightsaber duel where he lost his hand and his father's lightsaber. Vader would tempt Luke to join him before revealing that he was his father. Shocked by the revelation and seeing no way out, Luke choose to kill himself by throwing himself into the deep shaft so that his abilities wouldn't be used for evil. The shaft would lead him outside of Cloud City where he grabbed onto a weather vane so that he wouldn't fall to his death. Using the Force, he reached out to Leia who resuced him with the help of Lando Calrissian. Once he was on the Falcon, he learned that Han was frozen in carbonite and was in the hands of Boba Fett who intended on taking him to Jabba.
After escaping Cloud City, he was given a prosthetic hand while Lando and Chewbacca began their search for Han Solo. Over the course of a year, Luke would build off the training Yoda gave him and built himself a lightsaber that had a green blade. After it was discovered that Han was in Jabba's palace still frozen in carbonite, Luke and the others would make a rescue attempt that resulted in the death of Jabba and the freeing of Han. With his friend now safe, he would go back Dagobah to complete his training under Yoda only to discover that the Jedi Master was dying from old age. He would tell Luke that he completed his training and that he needed to confront Vader to become a Jedi Knight. Before he died, Yoda confirmed to Luke that Darth Vader was Luke's father and that there was another Skywalker.
After Yoda became one with the Force, Ben's ghost appeared and Luke asked why he lied to him. The deceased Jedi Master explained to him that man known as his father was destroyed after falling to the darkside and that what he said was true from a certain point of view. But Luke countered saying that there was still good in him and that he can't kill his own father. Luke would then ask about the other Skywalker and Ben told him that it was his twin sister who was hidden away to protect her. Through his intuition, he realized that Leia was his twin sister and Ben warned him bury his feelings as the could be used to serve the Emperor.
Luke would reunite with the Rebels where he learned that a second Death Star was being built near the forest moon of Endor and that the Emperor himself would be there overseeing it's construction. Since it was being protected by a shield generator on the moon, a team would need to go down and blow it up before an attack could be made. Luke, Han, Chewbacca, Leia and the droids volunteered and headed towards the forest moon on a stolen Imperial ship. As they made their way to the moon, Luke felt Vader's presence on a near by ship and realized that his very presence endangered the mission.

After landing on the forest moon, Leia was separated from the group and Luke was captured with Han, R2, 3PO and Chewbacca by creatures called the Ewoks. Since 3PO seemingly fell from the sky after being released by their trap, the primitive creatures began to worship him as a god. The group was taken to the Ewok village where they attempted to cook them in honor of their new god. Leia who made friends with the Ewoks attempted to intervene, but they threatened her with spears. Luke would then tell 3PO to lie to them and say that he would get angry and use his magical powers. After telling the lie, the ewoks didn't believe him prompting Luke to use the Force to levitate him which convinced the ewoks to release them.
Luke would then talk to Leia in private saying that he was leaving to confront Vader as he sensed he knew that he was on the moon. It was there that Luke revealed that Vader was his father and that Leia was his twin sister which was something Leia felt was always true. After the revelation, Luke left the village and allowed himself to be captured by the Imperials who took him to Vader. The young Skywalker tried to convert his father back to the light and told him to come with him, but Vader refused and took him to the Emperor. After being taken to the throne room, Luke learned from the Emperor his friends and the Rebels were walking into a trap as an entire legion of his best troops awaits them.
The Emperor would goad Luke into striking him down in anger with his lightsaber, but the blow was intercepted by Vader. The two fought as equals and during the course of the fight, Luke hid in the shadows saying that he won't fight him. But after searching through Luke's thoughts, Vader learned of Luke's sister and threatened to turn her if he wouldn't. Giving into anger, Luke unleashed a furious barrage of lightsaber strikes which drove the Sith Lord to his knees and the loss of his mechanical hand. Pleased with what was happening, the Emperor commented that his hate made him powerful and encouraged Luke to strike Vader down and take his place as his apprentice.
Realizing that he was becoming like his father by going down the dark path, Luke tossed his lightsaber telling the Emperor that he was a Jedi like his father before him. In anger, the Emperor would unleash a barrage of Force lightning that Luke couldn't defend against with the intent on torturing and eventually killing him. But Vader would pick up the Emperor and throw him down a shaft as the Force lightning damaged his life support systems. Around the same time, Luke's friends managed to destroy the shield generator allowing the Rebel fleet to make the shot that would destroy the Death Star. Luke would drag his father's body to a ship as the super weapon began to blow and before he took him on, he told Luke to take his mask off so that he could see him with his own eyes.
Luke initially refused to do it, but his father said it was too late now. After following his father's instructions, his father told him to leave him with Luke responding that he came here to save him. But his father said that he already has and that he was right about the good in him before passing away. Luke would take his father's body onto the ship and went to Endor where he burned his father's body. After cremating his father, he reunited with the others at the victory party in the Ewok village where he saw Force ghosts of his father, Ben and Yoda. After falling asleep, Luke woke up and found himself on another world as a result of a time warp that sent him into the future years after his future self died.

Role Play Sample
:
Luke could be seen walking through the busy streets of Mos Isley bewildered and confused. The last thing he remembered was going to sleep in the Ewok village after celebrating their victory over the Empire before waking up on the sandy streets of the city. The Force itself felt very different as he could feel it was out of balance with the darkside threatening to dominante the galaxy with the light struggling to hold it back.
This isn't right… the Force should be back in balance now that the Emperor and Vader are gone
thought the young Jedi Knight hearing a what appeared to be a small child saying Jedi Master Luke Skywalker.
He would then turn to his left and saw two children on the ground playing with what appeared to be poorly made toys holding sticks. He would stop and watched as the children play with one of the boys pretending that his toy was Jedi Master Luke Skywalker and the other one claiming to be Kylo Ren. The two would smash their toys together trying to emulate a lightsaber duel and as he watched he initially got the impression that this Kylo Ren character was made up. That was until he saw a vision of a dark haired man in black with a red lightsaber having a standoff with what appeared to be an older version of himself holding his father's lightsaber.
When the dark haired man struck at him, it went through the older him instead of cutting him before fading to nothingness. He would then find himself on another planet with his older self clinging to dear life as he was on a cliff that sat over the ocean. He could feel the struggle his older self was going through before letting go and vanishing with his cloak blowing into the wind. Just before the vision ended, he hear a feminine voice say "The galaxy may need a legend"
Finding himself back on the street, Luke instinctively knew that he needed to get back to the Rebellion and figure out what was going on. He would then head over to a familiar bar in hopes of finding a pilot and information.