Post by Lizabeth Ravine on Feb 11, 2019 1:04:15 GMT -7
Name:
Lizabeth Ravine
Age:
20
Original or Canon Character?:
original
Gender:
female
Race/Species:
human
Height/Weight:
5'3"/ 125lbs
Alliance:
herself but criminal bounty hunter (She goes by many job titles)
Rank:
hunter, assassin, leader
Weapons And Other Items:
staff, rifle, holdout pistol,
Blasters, holocrons.
Lightsaber Design:
a replica of the first blade..a primative saber. As well as a fashioned by her hand lightsaber of a different breed. The design is a far deadlier force pike. Her gun can also double as a saber.
Lightsaber color:

unknown (as the replica of the first blade nearly a second prototype is but thr beginnings and thereforethe color is just that of what powers it. A very light grey
As for her other two designs. One is purple the other is an emerald green with a hint of gold.


Lightsaber Form:
primative form and the vapaad though her style is different due to the way she was taught.

Time Era:
force awakens (though she does come from earlier its complicated)


Image: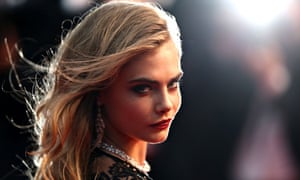 Face-Claim:
Cara Delevingne


Description:
Liz is currently one of the oldest people in the galaxy. And mostly because like a few others she was frozen and awakened some other way. She stands at five foot three and looks like she's twenty though she'd eons old. Her style is that of something that comes out of any of those warrior classes from long ago. She does like to wear dark colors and prefers different types of armor but she does feel most comfortable in something that flows enough with her movement be it robes or pants and a shirt. She's got the air about her that commands a room but she likes more to observe than to be quick to action. Her body language will tell you more than you think and isn't always what you think it means. Her eyes search your soul and they keep some enthralled.


Personality: liz is complicated...Liz is someone who has held close to herself that teachings of not only her great great great grandfather but also of one jedi/sith lord that has been around since forever for her. Rajavarri and Revan. A girl who knows that the light side can do to a person and what the darkside will do. She does not fall in the line of either side. She is simply chaotic. She has been called many things and it doesn't matter to her. She had a dont mess with me personality and yet she does have a tender side. She knows that you have to play the game of life to win the game of life. She knows how to stick around even after death. She had learned alot in her years and when she was frozen her mind was never actually gone from this world. Liz has seen more things then she dares to mention and she will simply guide those she feels are worthy much like her great great great grandfather.

History: Lizabeth is the great great great granddaughter of Rajavarri. He had a kid unbeknownst originally to him. Until he looked into the force and saw her with her mother. He however, let it go but knew that one day he would need to contact someone of his bloodline at some point. However, there was so much going on and he ended up dead before he had the chance or so her thought. His whispers followed those of his line that were sensitive in the force. When Lizabeth was born near the end of the old Republic era she was one of the first in a long line that heard him. Heard him as he had joined himself into the force. She was able to contact him even at the tender age of four. She learned from him what he could teach her. He had never seen anyone even in his time as intune with the force as he great great great grandaughter was. However, she was also the daughter of a Mandalorian and they had their own rights of passage.

Lizabeth never stopped to think about those things. She never really cared. She learned everything she could about her great great great grandfather and then she learned everything she could from the other side about a certain Revan. She was by all means insanely intrigued by Revan and his stories. And though she was born in times were both of these people no longer really existed in the flesh and blood. Through this she learned how to become a force ghost. Through the mandalorian training she learned how to hide who she truely was. In all of this she began to cement friendships and soon enough she got in with a hutt that would live far longer than she ever would and would keep her protected. She was his agent. And then she would be his sons agent. For a time as well. When she was t wenty was the first time that she was frozen in carbonite. She would not be unforzen from that carbonite until the rebellion era. Until everything with vader happened. When her time was done she was again frozen in carbonite.

However, nineteen years after that she was given as a prize to a hunter of renown still alive at the time after the death of the Hutt. She was taken elsewhere in the galaxy and finally awoken by a malfunction. She came out of the carbonite and made sure she was alright and then went out searching for what had happened to none other than Jabba the Hutt (the hutt family she had been working for was his) and finding out what happened caused her to go looking for one guy in particular. When she felt around for him in the force she could find no one. She knows he's out there as everyone seems to be looking for him. However, she had decided to lay low and take on small bounties find another hutt or long lived patron to keep up this game. She's not ready to die just yet but if death came calling she would not send him packing. She would great him like an old friend. For death only means becoming one with the force and finding another to teach that which you know in another means as a force ghost. And she really wants to meet all of those that have become one and can become one.

She has sensed the awakening in the force she knows there are more out there. But this is not a time of Jedi and Sith. This is a time for a whole different breed and perhaps a time for other force traditions that haven't be wipped out to come to life. Because if there is anything that she knows. Its that there is not just one way to go about things when it comes to the force and she learned when she was woken that things are not as they appear to be and that many of those force users have gone into hiding or they have been killed.

Role Play Sample:
please see my other characters starting with Luereth